Tree Cabling for Support
For tree cabling, we prefer the use of Static support systems. Static systems have a proven track record, they are stronger, & the materials last longer. Static systems involve installing steel cables between the major limbs of the tree in order to help reduce damage from high winds & heavy snowfall, as well as providing support for the tree.
Bracing involves inserting a threaded metal rod through a large, weak or split crotch to give direct support to the weakened area. Typically, installation of steel cables, up higher in the tree, are required as well.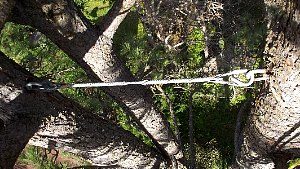 Sometimes it may be recommended to remove a tree, instead of using a support system, if the tree is in such a state of decline, in which cabling/bracing would not be sufficient to support the tree. It is also important to note that even cabled trees can fail. Support systems can be very useful, but they are not intended to eliminate risk or provide total tree safety. They are not permanent remedies either.
Proper tree maintenance helps extend the life of the tree. A New Leaf Tree Service can maintain you tree or trees for you as well. Please check out our tree trimming page and tree maintenance page.