A little about tree removal services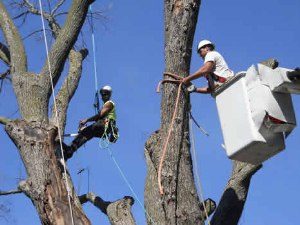 Tree removal is not a service we like to emphasize, but it is a very necessary part of arboriculture and one that A New Leaf Tree Service executes professionally and safely. Our goal is and has always been, to provide services that keep trees healthy, but there are instances when removal is the best alternative for the landscape and homeowner.
Tree removals are performed to eliminate dead and dying trees as well as those that have become hazardous. Removals can also be useful in eliminating competition for light and space so that the remaining plants are better able to grow and thrive. In some cases, trees may also be removed to allow for new construction, home additions and to provide clearances with those structures.
Tree removal hazards & safety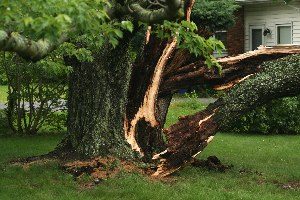 Tree removal is the most hazardous aspect of arboriculture. Often, tree workers must remove trees growing in confined spaces near houses, utility lines, and other sensitive areas. Tree removal requires considerable expertise to successfully perform this task.
We either remove trees by the use of a bucket truck &/or by climbing. We use some of the best climbing/rigging gear available to do the work as safely as possible.
Our trucks are routinely inspected to ensure safe operation. There are precautions we use if we use a bucket truck on a driveway. For example, we place a tarp or plywood under the truck in areas where leaks may occur. We also place pads under the outriggers (they stabilize the truck when the boom is in the air) to avoid damage to the driveway.
Other things to consider
Sometimes there are other things involved with getting a tree removed.
A.  Sometimes a tree is close to a property line.
B.  Is the tree in question on your property or the neighbors?
C.  Is your neighbor willing to split the cost with you if it appears to be half on your property and half on theirs?
D.  If the tree isn't on your property, can you get permission from the neighbor to remove it?
 involvement
Also, sometimes it is necessary to schedule an appointment with WE Energies if there are overhead electrical "service" wires than run under or close to the tree removal. Sometimes this will involve disconnecting the electrical "service" wires that feed your neighbor's or tenants residences. The "service" wires are the wires that drop down from the utility pole to your residence. There are phone and cable wires as well, but the service wires run to the electrical mast on your house. As far as the phone and cable wires are concerned, we never disconnect these. We just drop them down from the house so we have enough room to work around them.
We schedule all appointments with We Energies. You are responsible for notifying any tenants or neighbors of when the outage will occur after we call you with the scheduled date/time.
If the tree removal overhangs primary wires (the wires that run from pole to pole and feed power to your whole neighborhood), you will have to call We Energies at 1-800-242-9137.
They will send a forester out to access the situation. If the lines are indeed "primary" wires, they will have to come and clear the tree back from the wires before we can do the work. This is very important.
If power will be out
If we need to have electric disconnected for a longer period of time (because of the size of the tree/job), you may want to think about the following:
A.  Are you elderly or are there elderly people living in the residence (you/they may need to stay at another location during the day)?
B.  Does someone in the residence require a breathing machine (is there a generator or battery-powered machine to use for the day)?
C.  Is it too hot or too cold outside for power to be out for a majority of a day?
D.  Does anyone run a business out of the residence where power is needed (may need to schedule a day when the business can be closed)?
E.  Are there any tenants that need notice? Are there neighbor's that need notice?
The mess from tree removal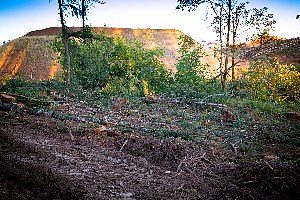 Normally, we remove all debris (wood, brush, stump grindings, etc.). But, sometimes a customer will want to keep the wood or the wood chippings. If you want to keep any of these, just let us know. Also, if the tree is large, you may want to consider a couple things.
If lawn damage is a concern, you may want to have the tree removed during mid-summer or in the winter, when the ground is hard or frozen (if done in winter, we cannot do as good of a clean up if there is snow). On our end, if the ground is not hard or frozen, we use equipment that minimizes lawn damage. We also drive heavy trucks/equipment over plywood to minimize the lawn damage.
We can remove the stump as well. For more on stump removal, see our stump grinding page.
 Final considerations
Before removing a tree, you may want to consider a few things. For instance, trees DO take a long time to grow and get to a considerable size. Trees also provide shade over outdoor sitting areas. We never recommend building a deck or patio around a tree though. If they are closer to your house, they can shade the house and reduce your air conditioning bills over the summer. Some trees are considered valuable and can actually raise the value of your property. Trees provide homes for birds and other small animals. Trees should be cleared back from structures enough to avoid rodents gaining access to the roof, causing damage. Trees are also used as privacy screens or for windbreaks, Is the tree healthy enough to be saved by cabling, bracing, pruning, or removing hazardous limbs over your house, driveway, or garage?
You may want to consider removing a tree if:
(1) It is causing major damage (from its root system) to your basement, garage slab, driveway, or sidewalks?
(2) Has it outgrown the area which it is located where it poses too large of a risk to surrounding structures?
(3) Is the tree diseased?
(4)Is there major damage, weak branch attachments, or decay within the tree, making it structurally unsound?
(5) Are you building an addition or new structure in which the tree is too close to where the building will occur?
Finally, please give us a call with questions you may still have so we can put your mind at ease.