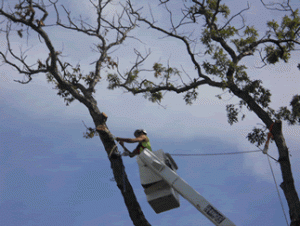 Tree trimming / tree pruning is delicate work that should be performed by a professional.
The following work is performed when pruning:
We remove dead & diseased limbs as well as limbs that grow in towards the center of the tree.
we remove cross-branching. For example, limbs rubbing on each other or that will be rubbing on each other in the near future.
Depending on the age/shape of the tree, we try to establish one main lead and remove multiple leaders.
We provide clearance from buildings, sidewalks, streets, driveways, utility lines, etc.
Upon customers request, we raise the canopies of trees, removing lower limbs around the tree.
We prefer to keep canopies lower. It results in a stronger tree and it looks nicer. We like to raise them up just enough to provide clearance for lawn mowing and to separate the tree from smaller plantings under the tree.
Reasons for tree trimming trees, tree pruning
There are a lot of reasons for pruning trees. Some of the main benefits to pruning a tree are as follows.
To reduce the risk of damage associated with high winds and storms (wind resistance is decreased).
Increasing sunlight to competing turf and shrubs under the tree.
To provide clearance where the tree is interfering with buildings, streets, utility lines, sidewalks, etc.
For aesthetic reasons such as improving the look of a tree in your landscape.
To maintain the health of the tree.
Improving a view. For example, you have a home on a lake and you want to improve the view of the lake when you're sitting out on your deck.
To remove a hazardous limb overhanging a building, street, sidewalk, driveway, etc.
We can put you on a Tree Maintenance plan.
What you should know
There are a lot of things you need to know in order to properly prune a tree. We suggest using a professional arborist to prune your trees. You can do more damage than good if you don't know what you're doing.
Here are some of the basic things you should know or be aware of.
The best time to prune most trees is during the dormant season (winter months). That's when conditions are NOT favorable for the spread of disease. Pruning during the dormant season also allows the tree the most time to heal in the spring before conditions for diseases become favorable again. Although this is the best time to prune, a lot of trees can be pruned year round. But, there are some exceptions.
Never prune an American elm or any Oak unless it is the dormant season.
Don't prune a tree, such as a fruit tree, in its flowering stage. It's best to prune these in the summer, after the flowering stage.
You need to know how to make proper cuts on a tree so it heals properly.
Don't use any sealants on any wounds or cuts on the tree. It promotes decay & slows up the healing process.
You need the proper equipment to safely prune a tree. It can be dangerous work if you're not properly equipped.
You should never "top" a tree. "Topping" a tree is indiscriminately-removing the top of the tree in order to shorten its height. It will shorten the lifespan of the tree. New growth will be weakly-attached, the tree will be subject to storm damage, the tree will pose a safety hazard to people, vehicles, & buildings, the topping will open-up the tree to diseases and insects, and it will be expensive for you to maintain a tree that has been topped.
There are also different techniques to tree trimming / tree pruning, depending on what type of tree it is.
Timing between tree pruning depends on the growth rate of the tree. For example, a fast growing tree may need pruning done every 2-3 years, where as a slow-growing tree may only need pruning every 4-5 years.
We also do both bush / shrub trimming and hedge trimming / sculpting.