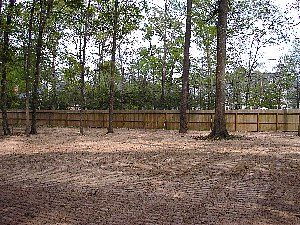 From large jobs, such as clearing for entire subdivisions, down to smaller jobs, such as clearing for a single family, residential lot, A New Leaf Tree Service is equipped to handle the job. Since we have experience in working with other area contractor's such as builders, developers, and landscapers, we can communicate with the other contractors to make sure the project goes as smooth as possible.
The Cost Varies
When you research the internet for land or tree clearing cost, you will find the cost varies considerably. The reasons for the variables include the size of the material being removed, the amount of equipment being used for the job, the amount of material as in how many trees per foot to clear and the terrain.  The terrain factors in the slopes and hills on the property, if there are a lot of rocks or standing water that we have to avoid.
Common variables in cost and amounts cleared in a day include:

Amount of trees or brush in a square foot.

The overall size of trees (height and diameter).

Tree Species (vary in hardness).

Hills and Dips in the terrain.

Rocks can damage equipment and are avoided.

Standing Water

How fine you would like the trees mulched up.

The amount of trees we need to go around.